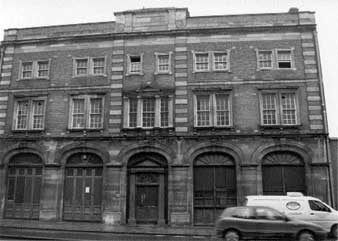 NCAD plans to convert the former fire station
By Samantha Rowntree
THE National College of Art and Design is planning to convert the former fire station on Thomas Street for studio, tutorial and community arts use.
The building is to be transformed with a three-storey glazed entrance. Following on from the glass entrance, visitors will enter a lobby where artwork will be exhibited. The façade of the fire station will remain as it is and the windows will be renewed.
According to Mr Ken Langan of the NCAD, "the full application is with the Corporation. We have been in constant contact with Michael Stubbs, project manager of the Integrated Area Plan, and he is very supportive of the plans. The former fire station used to be a shelter for homeless up to the 1980s. The Corporation do own the building but we hope to complete a deal to transfer the lease to us."
Two thirds of the building will be dedicated to the national resource centre for community arts, CAFE, (Creative Activity For Everyone). Mr Arthur Duignan, assistant director of CAFE said the college's presence in the building has been agreed on. "What's planned is that the Corporation negotiate with NCAD," he said. "Then we will in turn go into partnership with NCAD to renovate the building."
Mr Duignan explained "NCAD are very restricted for space and they are also trying to address their visual aspect by extending into the building next door. The Integrated Area Plan also desires that the college be opened up for community access, to have a community presence and more community involvement in the college."
NCAD has almost 800 full-time undergraduates and postgraduates and a further 700 students on evening courses who hope to benefit from the improvements.