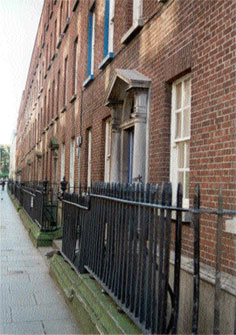 Yorke Street: Fire exits were chained shut
By Lisa Deeney
FULL SAFETY checks are underway on flat complexes in the south inner city, after residents narrowly escaped injury in a number of recent fires.
The investigation is to be carried out following a recent fire in York Street where several tenants were lucky to escape with their lives when a fire swept through the complex. A number of people were treated for smoke inhalation but there were no serious injuries.
However Dublin Corporation has confirmed the majority of fire exits in York Street were locked by the tenants. "First of all the building itself is totally safe," said Mr Kieran Cunningham, Head of Housing Maintenance in Dublin Corporation. "The fire was serious but was confined to the ground floor unit. The integrity of the building itself was maintained. We found that a large number of fire exits were locked by tenants themselves allegedly for security reasons.
"Not only were some fire exits locked, some even had a door going across it," he added. "This is a very serious situation. Locking of fire escapes is just totally unacceptable."
The Housing and Maintenance section in Dublin Corporation intend to install smoke alarms free of charge in all the street's flats, and at a future stage in all inner city flat complexes.
"Unfortunately it is true," York Street resident Mrs Joan Stevenson told the Liberty. "Most of the fire exits on the third and fourth floor were locked. They were padlocked. Nobody knew who locked them. Nobody had a key."

Mrs Stevenson suggested the fire escapes may have been locked because children could get access to the roof. "There is no way the Corporation could put up secure fire exits due to the design of the flats. The halls themselves act as a smoke funnel. There is only a slim chance to escape," she added.
"It could have been a disaster. People would have been trapped and people would have died if it wasn't for Dublin Fire Brigade."
Mr Stevenson continued: "Dublin Corporation are upgrading the fire exits in York Street but in the long-term it is no solution. It is pretty impossible to escape a fire when you are on the top floor. You have to look out for yourself."
Local councillor Kevin Humphreys was satisfied with the Corporation's pledge to carrying out the checks. "I welcome the recent commitment from the Corporation that this safety audit is to be carried out on flats throughout Dublin," he said. "Any necessary measures that are deemed necessary will be carried out as a matter of utmost priority."
South Central TD Dr Mary Upton has also called on the Dublin Fire Chief to launch an immediate investigation into the safety of the flats, which she described as a "victorian disgrace".
"Residents need to be given a detailed plan on what to do in the event of fire," she said. "Smoke alarms should be distributed to every household. Many tenants are elderly and this needs to be taken into account."