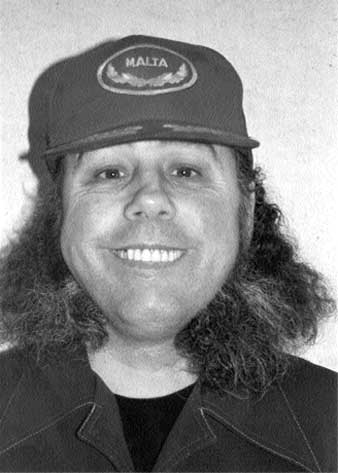 You may not know him, but he reckons he's controlling our brains. TheLiberty meets a legend in his own lifetime, the enigmatic Aidan Walsh. By Janice Gaffey
SINGER, songwriter, film star, promoter - Aidan Walsh has done it all. But he hasn't let fame go to his head and is very anxious that people "don't think I got snobby". Aidan rose to prominence in the late eighties, but has recently returned to the public eye with the release of his biopic, Aidan Walsh - Master of the Universe.
The film was screened in the Irish Film Centre as part of the Docklands Film Festival last year and has had a number of screenings since then. It has just been selected for screening at the third annual Film Fleadh in New York in March and Aidan is going with it, with all the usual trimmings - arriving on a white horse surrounded by followers wearing luminous buckets on their heads, a gold suit, and proclaiming to one and all that "the eagle has landed". And Guiliani thought he had the city sorted out.
Although the film will be screened regardless of whether or not Aidan shows up, he's going anyway. As he tells me in his own inimitable style and accent, "I'm going to New York for one week, my movie is. I was picked to go over. They contacted me, I didn't contact them. They came to see it in the Galway film festival, they said they didn't see anything like it before in their lives," he says. "It was something like going to another planet and they were learning, just to let the people know that I'm not bigheaded, just because I have a movie out about me. A lot of famous people let fame go to their heads overnight but I won't do that. It do no harm to let fame go to your head now and then but not overdo it."
And he has no intention of toning down his persona for the Americans. "I'm going to try to arrive on a horse over there. I'm going to try and get a horse and everything and I'm going to go on radio programmes when I'm over there and make the best out of everything in a very short time." Never one to let an opportunity pass him by, Aidan is looking for cameramen to accompany him "if they want to pay their own way, to film me for part two movie. Make sure you mention that for me, will you?"
The first instalment in Aidan's attempt to take over Hollywood is a documentary detailing his life so far, his triumphs and tribulations, from his time as a pupil at the Lota school for boys in Cork to his rise to localised fame in Dublin in the late 80s. The list of contributors is impressive, and you can't help but feel it would have made for a magnificent, if somewhat surreal, episode of "This is your life". "Dave Fanning, Gerry Ryan, Gavin Friday, Eamonn Carr, a lot of very famous people, Joe Connolly, Guggi, Gavin Friday, Simon Carmody, a lot of other people were involved, The Frank and Walters, the Fun Lovin' Criminals, Dermot," he leans closer to the microphone, "make sure all them names go on the paper. If they think I forgot, they might think I've forgotten them. They might think I got snobby then. At least they know I'm down to earth."
So how did it all begin? How did Aidan Walsh, self-proclaimed Master of the Universe, become a trophy member of the 80s in-crowd, make his own "albun", featuring such song-writing masterpieces as the Hokey Cokey and the Community Games? And how did he manage to get "the fastest record deal ever in this country"?
"I met them very easy in 1984. I was living in 14 Temple Lane at the time". Aidan (so far as I can tell) began running a rehearsal studio out of Temple Lane, and "when the Golden Horde heard I had a room upstairs they wanted to rehearse in the place then. There was nothing in Temple Lane at the time. I brought it to life". In May of 1984, Aidan took over the lease for 11 Temple Lane and in August of that year, he entered a partnership with Paddy Dunning.
Aidan's determination to avoid being ripped off meant Temple Lane was run with all the precision of a military offensive. All equipment going into or out of the building had to be signed in and out, and identification was required to gain entry to the building. The building's owners, Coras Iompar Eireann, could have learned a thing or two from him. Aidan accumulated rent arrears of around £3,000, and as a result, lost the lease to number 11, which was taken over by Paddy Dunning.
In 1987, Gavin Friday and Simon Carmody asked Aidan to perform in the Waterfront. "I said no problem. I did the Hokey Cokey." He proceeds to re-enact the performance, opera style. "They had a guy called Joe Foster over from England. They seen the Hokey Cokey, and I got signed in three minutes, it was the fastest ever record deal in Ireland," he explains. "Now any fool can do the Hokey Cokey, its how I did it that got me the deal. I was a crazy guy - I can't sing and I can't play but I got signed in three minutes."
His style certainly qualified as unique and he was usually accompanied by people with buckets on their heads. Where did his approach come from? Far, far away, apparently.
"We come from other galaxies and a warmer climate. The buckets were luminous, that was the whole idea, you see them in the dark. We were coming from different galaxies at the time. They can't take the buckets off their heads 'cause they'll die then," Aidan explains. "In your planet there's only four dimensions of time but in our planet there's 85 dimensions of time. See, we can never die. If you try to kill me the knife is transferred back to kill you directly, it won't kill me. See, I'm not human, I'm only a robot on the planet earth. I come from Japan every night of the week but at night-time, I charge up my batteries and eagles fly out of my stomach every night. I control the whole planet without killing anyone."
Right then, so what are the plans for the future? "I'm aiming to run venues, that's my whole scheme. I'm looking for a venue for all-age gigs up to 11 o'clock at night time with soft drinks. Let people know there's a great need for it, to keep young people off the road, and to let them do something with their lives. I have a venue at the moment in the Tivoli. I'm running gigs on Monday and Tuesday nights and Saturday afternoons.
"They're not fully operating yet but I am running them. To book a night gig is £130. Make sure all this goes down now. They get a full backline. Each band gets half an hour. They get 80 tickets and the ticket money belongs to the band. It's £5 to go along to the gigs and they get four or five bands for that. Any young bands looking for a gig can ring me up and book a gig in the Tivoli. Moshing is allowed, but diving off stage is not allowed."
And where does the interest in helping young bands get off the ground come from? "I went through it in the boarding school myself. I never got a chance or a break when I was a kid. I learned the hard way".

Aidan Walsh can be contacted at 087 2493375 / 014737416.
Address: 3F Ross Road, Dublin 8.
www.aidanwalsh.com
aidanwalsh@hotmail.com.